Coloring dark brown skin
Coloring skin is challenging, because skin is not one single color. We're not just talking about the various skin tones seen across the human race, but the landscape of every individual is full of highlights and shadows and reflected colors. Coloring in a person is not like coloring a still life. We move, and so do the colors that play upon our skin. There's nothing wrong with cartoon colors. You can certainly pick up one pencil and color all exposed skin that one flat color. But if you want a more realistic look, then you need to move away from "skin tones" and select from a full spectrum of colors.
The Jamacian Girl is from my latest book, Color Me Beautiful, Women of the World. This tutorial is to show you how I colored this picture. I really recommend photocopying the picture in the book. Make a few copies. Try out your color palette. Decide where you want your light source and which areas would fall in shadow. Then grab your favorite beverage, settle into a comfortable spot with a decent light, RELAX, and have fun!
You do not have to use the same colors or brand of pencils that I did. I didn't look for the "right" name or number when I grabbed a medium brown – I just looked for a medium brown pencil. Ditto for blue, red, whatever. Close is good enough if you want the same results.
When I color, I hold the pencil in my right hand and I swing from my elbow in a steady arc. This gives me a lighter, wider, and more even stroke. If I color by moving my wrist or fingers, my lines are darker and less even – great for filling in detail but streaky when it comes to filling in large areas of color. I try to lay down every layer very evenly... and this can be tricky once you have several layers and can't see the newest one very well.
Below is the image with eyes, lips and hair colored. I colored these in first so I could balance the rest of the face against the tone of those areas. I find with light colored skin I can let the eyes and lips go until I have worked the skin tones about half way, but with dark skin I need to establish those areas as a guide for the rest of the face.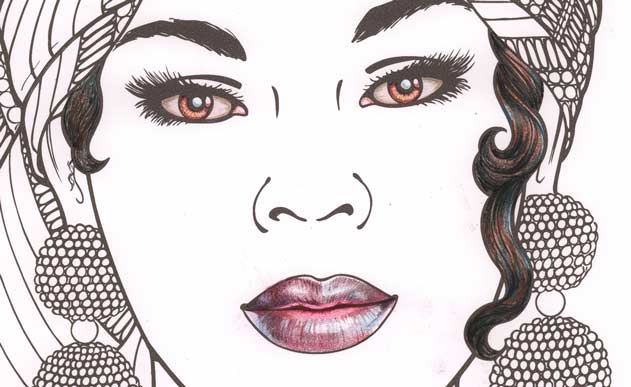 I applied a light even application of prismacolor sienna brown – PC945 Any medium brown will do.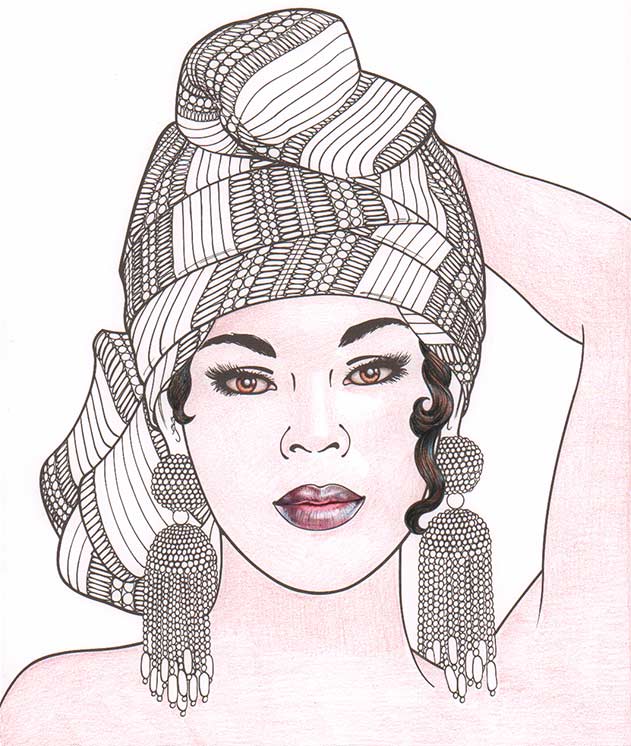 Prismacolor electric blue PC1040 is used next to white highlights, in areas of shadow, and to reflect the blue of the earrings. If you plan on a different color for the earrings, use that color as reflected light.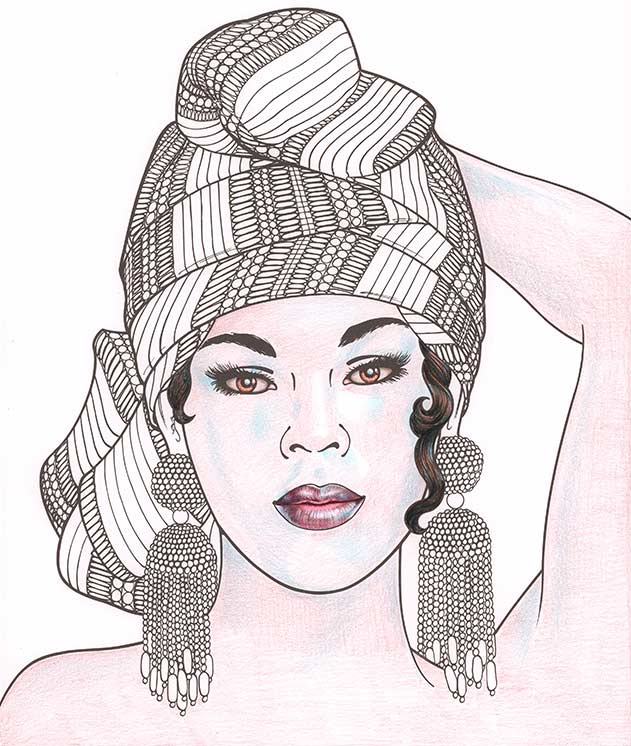 Start adding contours with prismacolor mahogany red PC1029. I also like to use tuscan red and black grape to build up shadows... any of the deep reddish brown colors will work well.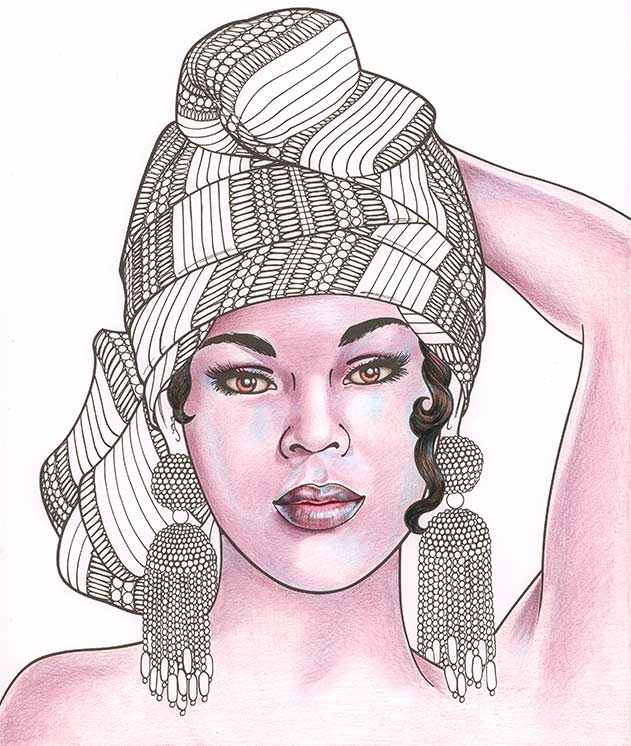 She's too red, so I have to work in some browns. I add a layer of prismacolor chestnut PC1081. I just layered the color until it looked more brown than red.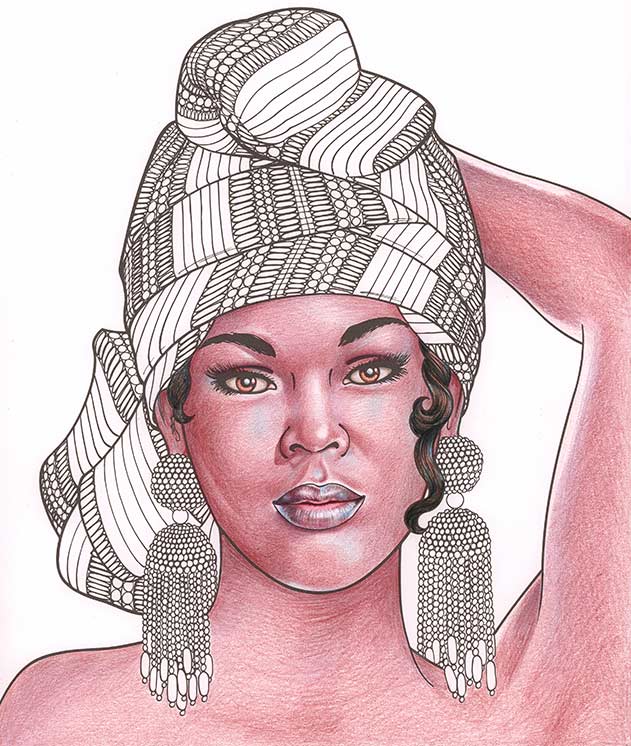 Now I start really darkening those shadows and deepening contours colors with layers of dark brown PC946 Just work it... start light and keep layering until you have the depth you want.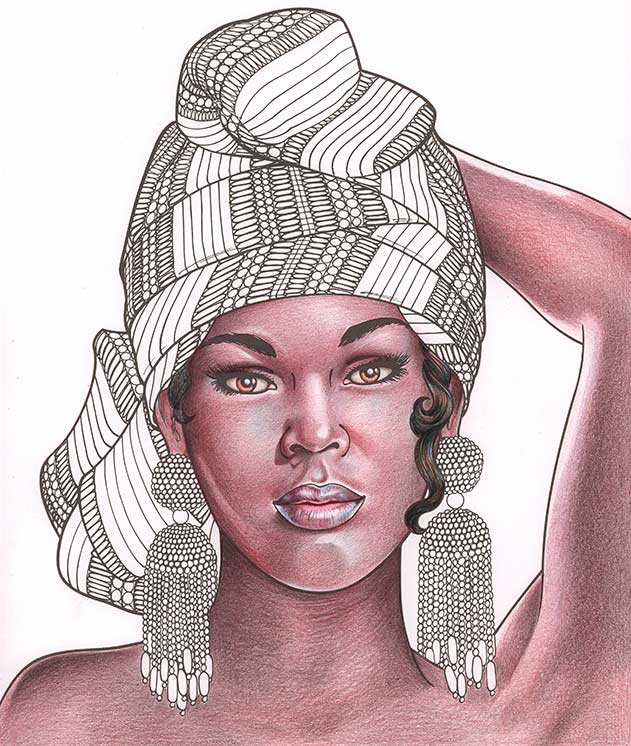 I worked in deep shadows of 90% french grey PC1096, marine green PC988 and indigo blue PC901, overlaying chestnut to blend those colors in. At this point I want the deepest shadows to be very dark, and the skin to have a soft, glowing look.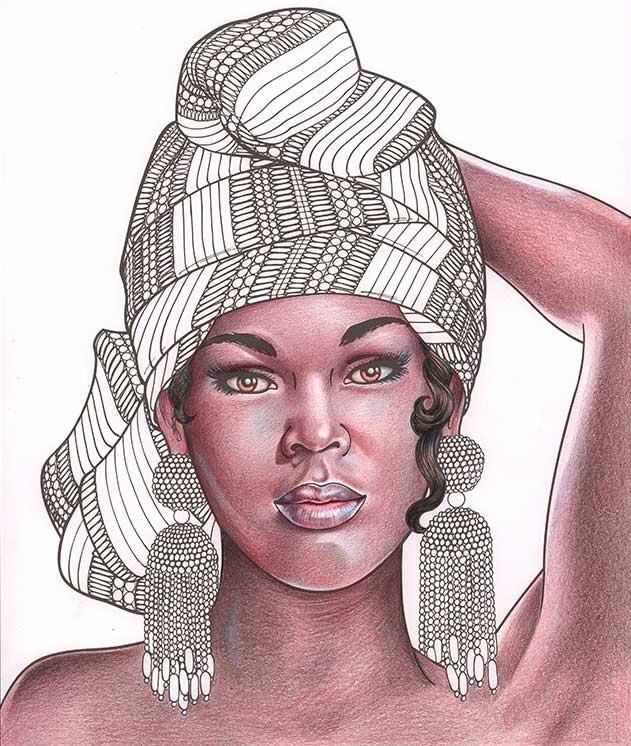 The finished picture, with the earrings and scarf colored in. I used colored pencils, gel pens, and metallic pens for the hat and earrings. The background is Eyes Lips Face (ELF) eyeshadow applied with a paint brush. When I was finished I stepped back and decided I really didn't like the chin. It was too flat. So, I took out some pencils and got rid of the curved white highlight and deepened the shadow under her lower lip.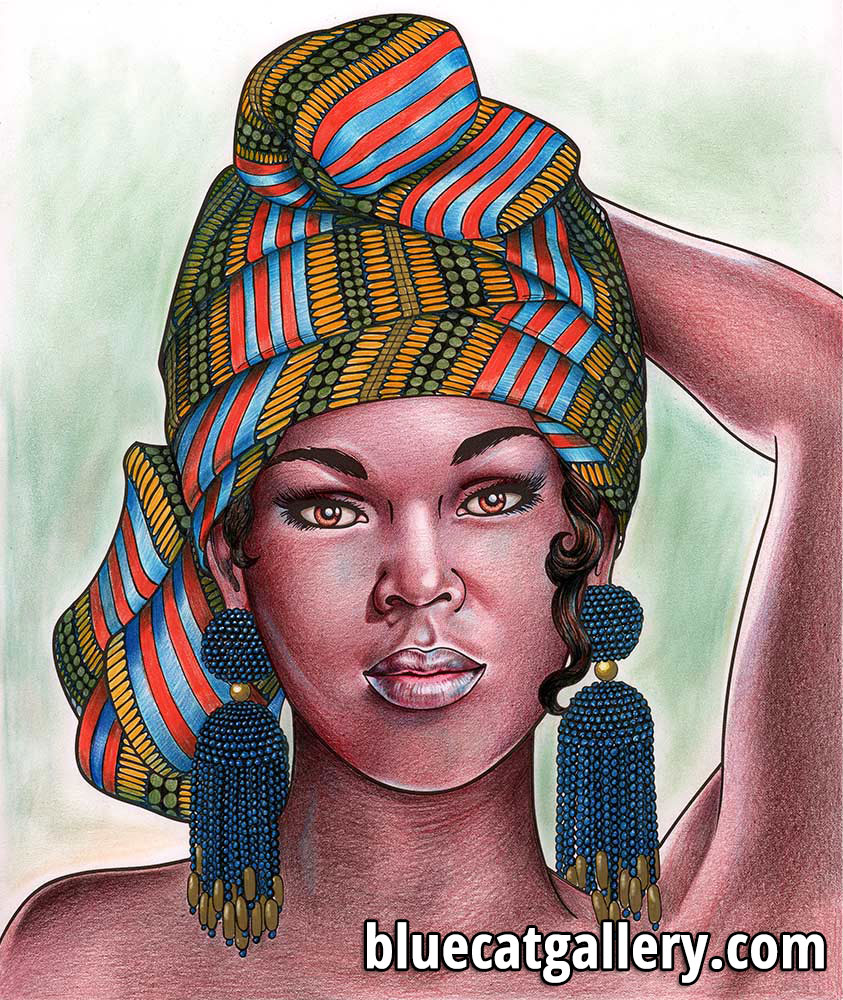 So give it a try, post your results, and be sure to tag me so I can like your picture!
If you are interested in trying your hand coloring, you can visit my gallery page to download a free sample and print it, or buy my book from Amazon.