Mandalas with Inspirational Sayings and Affirmations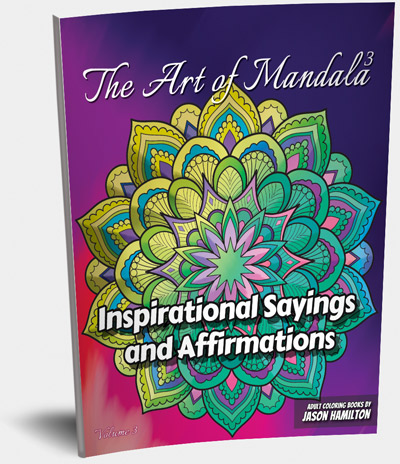 Also available on
Amazon.ca
,
Amazon.co.uk
60 hand drawn Mandala illustrations to color
Adapted art from The Art of Mandala Volumes 1 and 2. Mandalas with Inspirational Sayings and Affirmations takes the original hand drawn artwork and alters it in interesting new ways. Please take a look at the image previews on the Amazon listing to see all the artwork included in the book.
Perfect for every age and skill level.
Each page contains Motivational Sayings and Positive Affirmations
Various design styles and line thicknesses to mix things up.
Each image is printed on its own one sided page of 60 lb pure white paper to minimize scoring and bleed-through.
In order to keep the price of this book affordable with so many pages of artwork, the pages are NOT perforated.
This is volume 3 of the Art of Mandala series. Be sure to check out volumes 1 and 2 if you prefer coloring Mandalas without sayings.
Want to show off your colored artwork? Tag your posts with #TheArtOfMandala